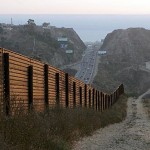 Since the story about 10 Immigration Agents suing the Obama administration didn't make our newspaper, we wanted to make certain you saw this!!! A tiny glimmer of hope . . .
Washington Times) – Saying they're fed up with being told they can't do their jobs, 10 immigration agents on Thursday sued the Obama administration to try to halt the president's new non-deportation policy and an earlier memo instructing them not to go after rank-and-file illegal immigrants.
The lawsuit, filed in a federal court in Texas, adds a legal controversy to the political fight that has been brewing over President Obama's immigration policies, which have steadily narrowed the range of immigrants the government is targeting for deportation.