UPDATE: Land Grab: Ozark Run Scenic Byway Meeting Info and a Letter to the Editor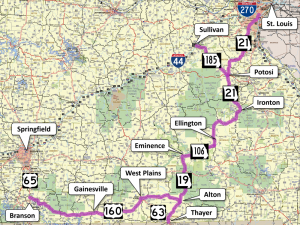 Ozark Property Owners — Your Land is in Jeopardy!
Dear readers,
High alert! Many of you are asking about the meeting locations, dates, and times in August and September 2022 for the areas affected in Missouri by this most recent attempted federal land and water grab A.K.A. Ozark Run Scenic Byway. You may find the meeting info here (click the link and then scroll down), and we've also listed the future meetings directly below (see the chart). MISSOURI RESIDENTS, please attend the meetings in your area and let your voice be heard to oppose this attempted land grab! Remember, we need to stop this… Arkansas is next on the list.
Also, be sure to read the bottom of this alert for a well-written letter to the editor from Bob Parker regarding this government overreach. He explains what's truly going on very concisely.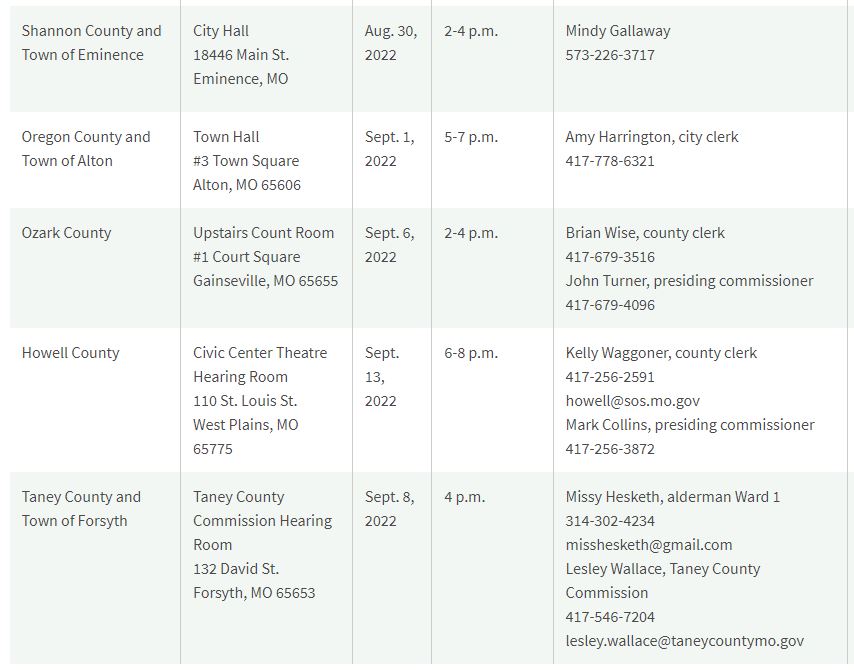 Here's an exemplary Letter to the Editor from Bob Parker, Co-Chair, Property Rights Coalition:
To the Editor,                                                                         8/29/2022

Many folks in the 11 counties of rural Southern Missouri are just now finding out about the proposed OZARK RUN SCENIC BYWAYS scheme that has quietly made it past many elected officials and a few select individuals for the past year or longer. Most of us have just found out about this big government overreach a few days ago. The proponent of this scheme claims that this is just a simple little program to help us country folk make more money and "protect" our cherished Ozarks. They also claim that this designation is just a few road signs and will help tourists find us to spend their money in our money starved Ozarks. Here is what they don't tell you.

1. THIS IS A FEDERAL PROGRAM. This is NOT just a Missouri program! Congress has funded this with over 30 million dollars just in 2017. MoDOT is just implementing this Federal program just as the Missouri Dept of Ag implements other Federal Ag programs. DON'T BE FOOLED!

2. SCENIC MISSOURI claims that the designation will not implement new regulations. This is true. What this designation does is create a CORRIDOR MANAGEMENT GROUP THAT WILL MEET TO DETERMINE NEW REGULATIONS! This group will be made up of FEDERAL AND STATE AGENCIES, including the NATIONAL PARK SERVICE, FOREST SERVICE, U.S. FISH AND WILDLIFE, EPA, AND OTHER STATE AGENCIES! The grant money that will come will make the regulations happen to the unsuspecting!

3. The way these big Government takeovers work is they pass the Federal Program, then a NON-PROFIT 501 GROUP IS CREATED TO IMPLEMENT THE PROGRAM SUCH AS SCENIC AMERICA OF WHICH SCENIC MISSOURI IS AN AFFILIATE. That means Scenic Missouri is the hired gun in Missouri to walk the program through the various Counties and small Towns they want to regulate. THE DECEPTION OF SCENIC MISSOURI IS STAGGERING, AND MOST PEOPLE HAVE NO IDEA WHAT IS ABOUT TO HAPPEN!

4. The CORRIDOR PROTECTION GROUP MADE UP OF FEDERAL AGENCIES WILL OVER SEE EVERYTHING ALONG THE BYWAY AND EVERYTHING IN THE "VIEWSHED." THAT'S ALL THE LAND YOU CAN SEE FROM THE BYWAY, THOUSANDS OF ACRES OF PRIVATE LAND!

5. SEVEN PRINCIPALS OF SCENIC CONSERVATION

Here are the goals of SCENIC MISSOURI AND THEIR AFFILIATE SCENIC AMERICA from their website. [see scenic.org]

a. Protecting farms and ranches by … AGRICULTURAL ZONING

b. Map visual qualities…and then adopt strategies to PRESERVE them.

c. Incorporating aesthetics into performance MEASURES for PLANNING, SITING, AND CONSTRUCTION OF ALL NEW DEVELOPMENT.

d. Comprehensive tree policies that PRESERVE EXISTING TREESS, CONTROL TREE CUTTING, and tree damage during construction. [remember, this is for the thousands of acres that can be seen from the Byway!]

e. MAKING VISUAL POLLUTERS PAY BY FINING THOSE THAT BREAK THE LAW, TAXING THOSE WHO USE THE VISUAL ENVIRONMENT FOR COMMERCIAL ADVERTISING.

f. BANNING NEW BILLBOARDS AND STRICTLY REGULATING EXISTING BILLBOARDS. HALTING ALL CUTTING OF TREES AND VEGETATION ON PUBLIC LAND to improve visibility of billboards.

g. Setting height and size standards for on-premise signs.

h. Regulating other forms of outdoor advertising including exterior of public buses, street furniture, store windows,…

I. Incorporating SCENIC CONSERVATION INTO ALL ELEMENTARY AND SECONDARY ENVIRONMENTAL AND GEOGRAPHY EDUCATION CURRICULA.

j. INCORPORATING VALUES OF SPECIFIC CONSERVATION INTO GRADUATE COURSES IN ECONOMICS, PLANNING, DESIGN, AND PUBLIC POLICY.

Designing the OZARK RUN SCENIC BYWAYS will just be the beginning. While they claim to be working to make the world sustainable, they destroy private property rights and freedom. DON'T BE FOOLED,  OZARKS! THEY ARE FROM THE GOVERNMENT, AND THEY ARE NOT HERE TO HELP!

Most counties have already given approval. We need to get out the FACTS about what is happening and NOT just listen to one side that is being paid big money to promote this scheme. I asked the promoter going to all the counties how much he was being paid. He refused to answer. I am being paid nothing.

Please share this information far and wide.

Sincerely,

Bob Parker

Co-Chair Property Rights Coalition

cell 417-257-8711 or email parkerdesigns1975@gmail.com
Must read! Here's our previous article about the Byway, and here's the map of the affected areas including Missouri, Arkansas, and Oklahoma: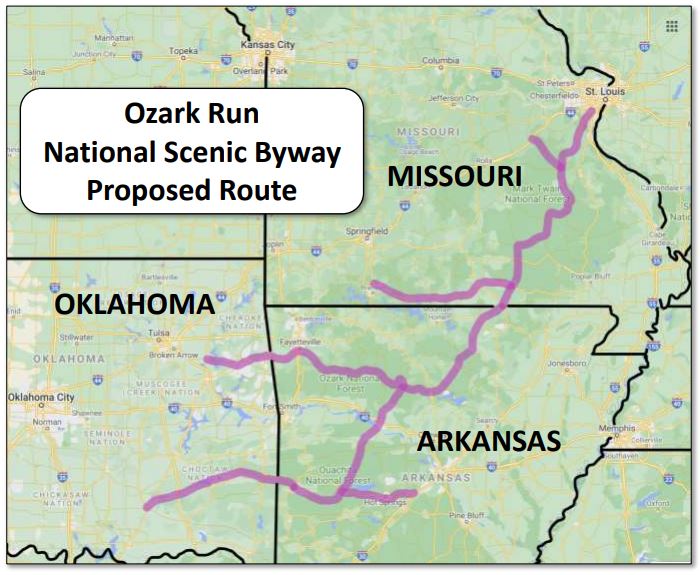 Shown below is a map of the specific routes affected in Missouri: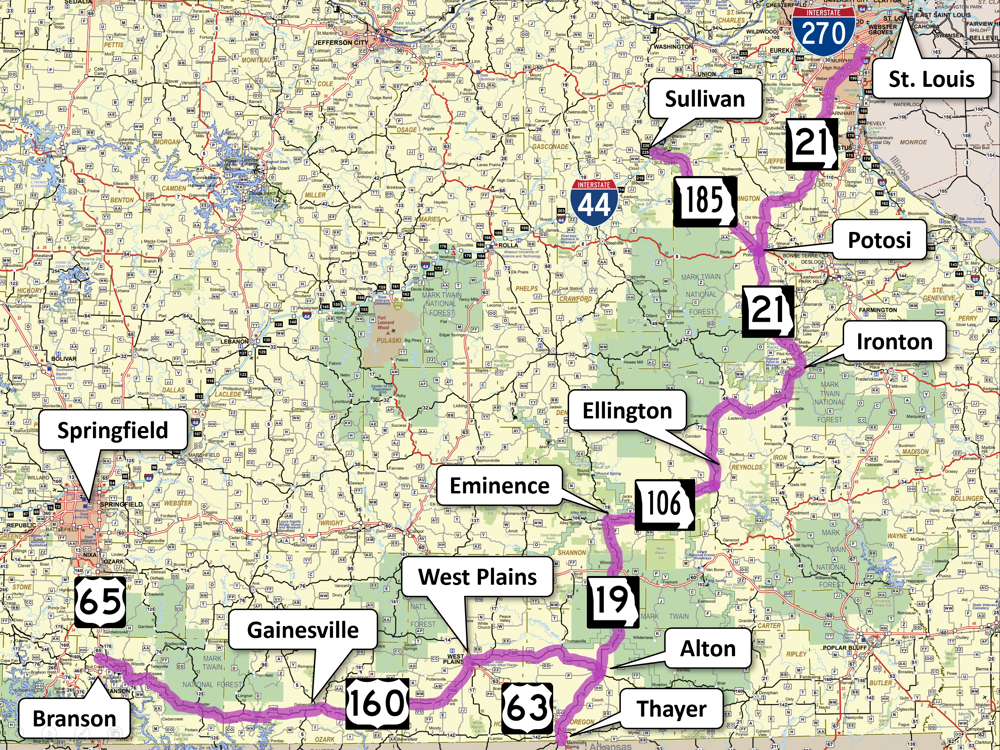 Again, MISSOURI RESIDENTS, please attend the meetings in your area, and let your voice be heard to oppose this attempted land grab!
Arkansas and Oklahoma are next on the list!
Let us hear from you by phone or by email: info@securetherepublic.com
As always, you can find our email articles posted on our website: SecureArkansas.com.  The Search box is a handy tool.
For more information about a topic, just type it into the Search box on our website, and click Enter!
Securing the blessings of liberty,
Secure Arkansas
securetherepublic.com/arkansas
info@securetherepublic.com
Share This Article