Legislators, Make a Dedicated Commitment to Stand Fast!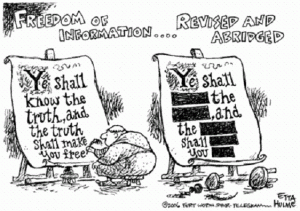 Legislators, One Last Plea Before the Arkansas Special Session Begins!
Legislators, vote "NO" on the newly proposed FOIA bills HB1003 & SB7 that were especially prepared for this special session Governor Sarah Huckabee Sanders has called to begin on Monday, September 11, 2023! We, the people, will NOT forget how you vote regarding our highly esteemed FOIA. 58 lawmakers (and many who are wavering) are behind this malevolent bill, so readers, encourage them to vote NO on these bills.
The bill may be heard at 1:00 pm in the House in room 151 and at 3:00 pm in the Senate in the Old Supreme Court room; or upon adjournment from the House.
Our desperately needed FOIA Law is in jeopardy and needs to remain intact and unharmed. So, please don't betray us. This is a very emotional issue, no doubt about it.  Please don't deny Arkansans the right to request governmental records. Our 'People's Law' does NOT need to be incrementally disassembled by our legislature. Let's keep our state sovereignty in place!
This FOIA bill is NOT about the security of the governor… That's a lie! Why can't we see her flight logs? Who is she hiding that were on her flight logs, for example?
Legislators, your constituents are counting on you to keep ALL of our freedoms in place when we need information. We ask that you look at this from a voter's perspective because opposing viewpoints need to be heard in this session as we face an unsettling future. We are pleading for an open and transparent government here in Arkansas! We do NOT want to go from a state with the strongest FOIA to the weakest FOIA overnight.
Difficult times are upon us, and we know there's a lot of unrelenting pressure placed on you to allow parts of our beloved Sunshine Law to be destroyed. This may seem like a small change to the FOIA, but it's not. If you vote to have parts of our pristine FOIA law gutted, the unintended consequences will result in suppressing millions of Arkansans the right to question our government and have insightful transparency. Agencies, school boards, state government, county government, and municipal government need accountability. Don't you agree?
For many years now, we have watched while masterminds of evil forces and bureaucrats have been striving relentlessly to take a hard swing at our FOIA law that they seem to hate, and each time their destructive blows were withstood and fought off courageously. Readers, this is truly a non-partisan issue, if there ever was one.
About HB1003: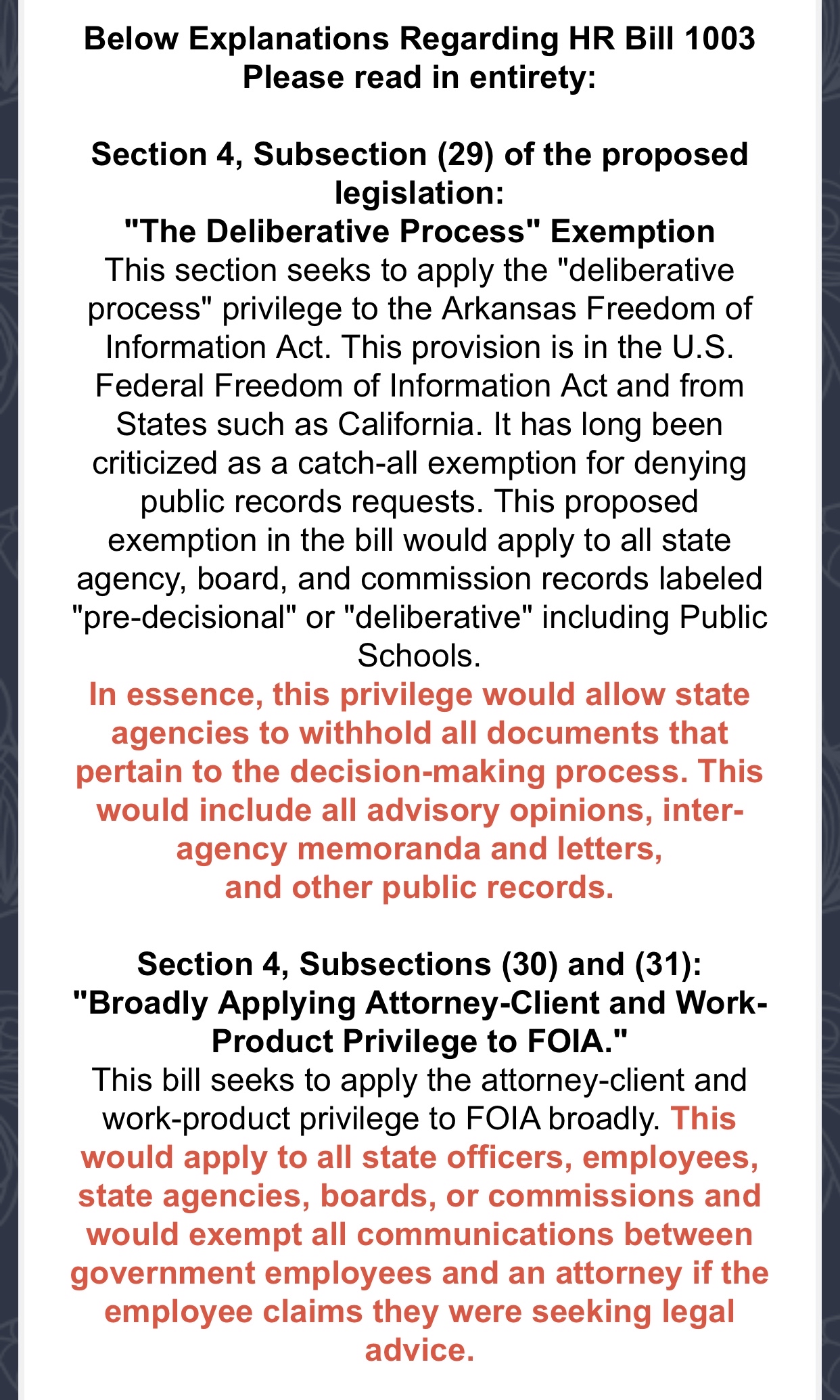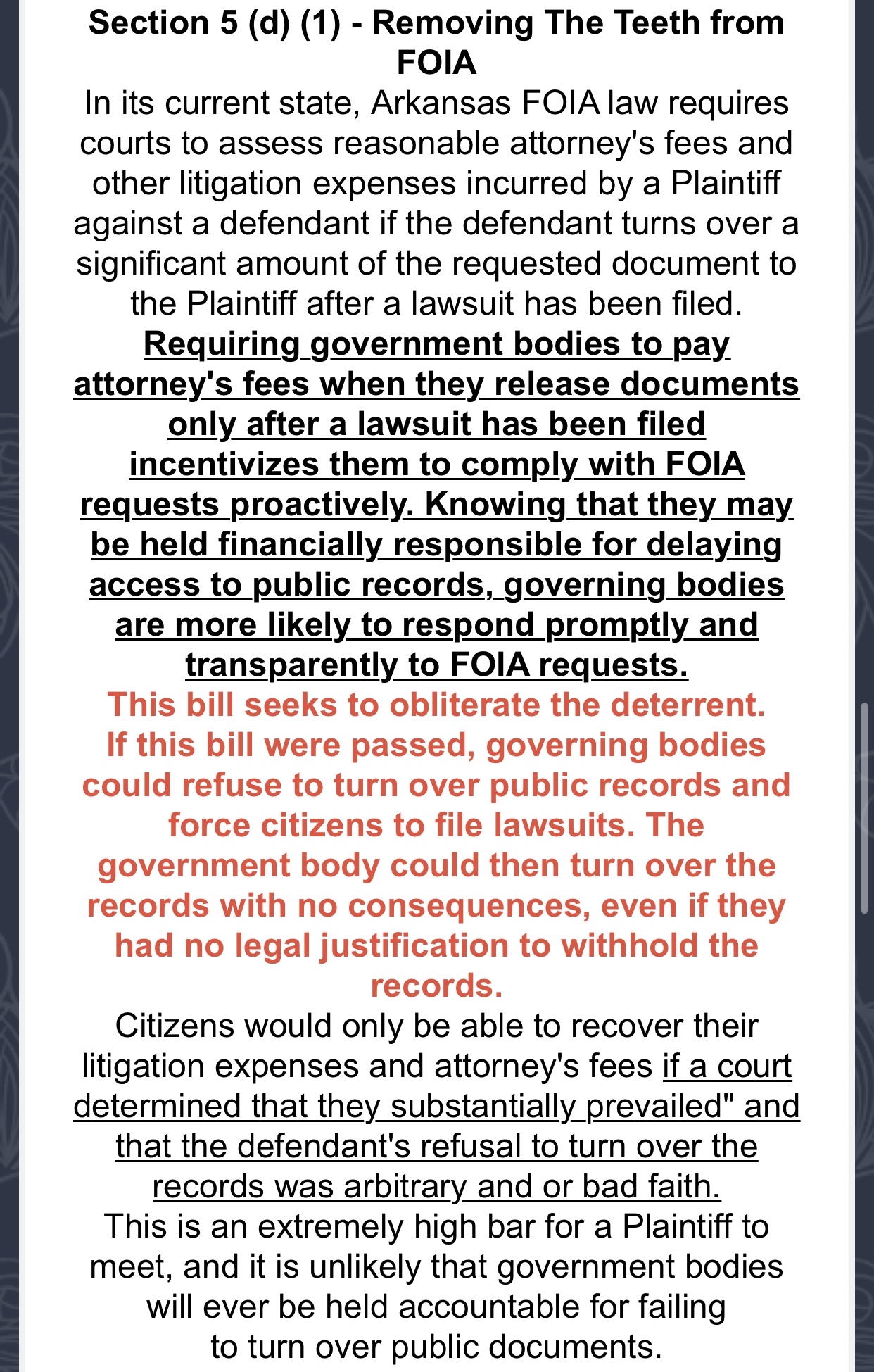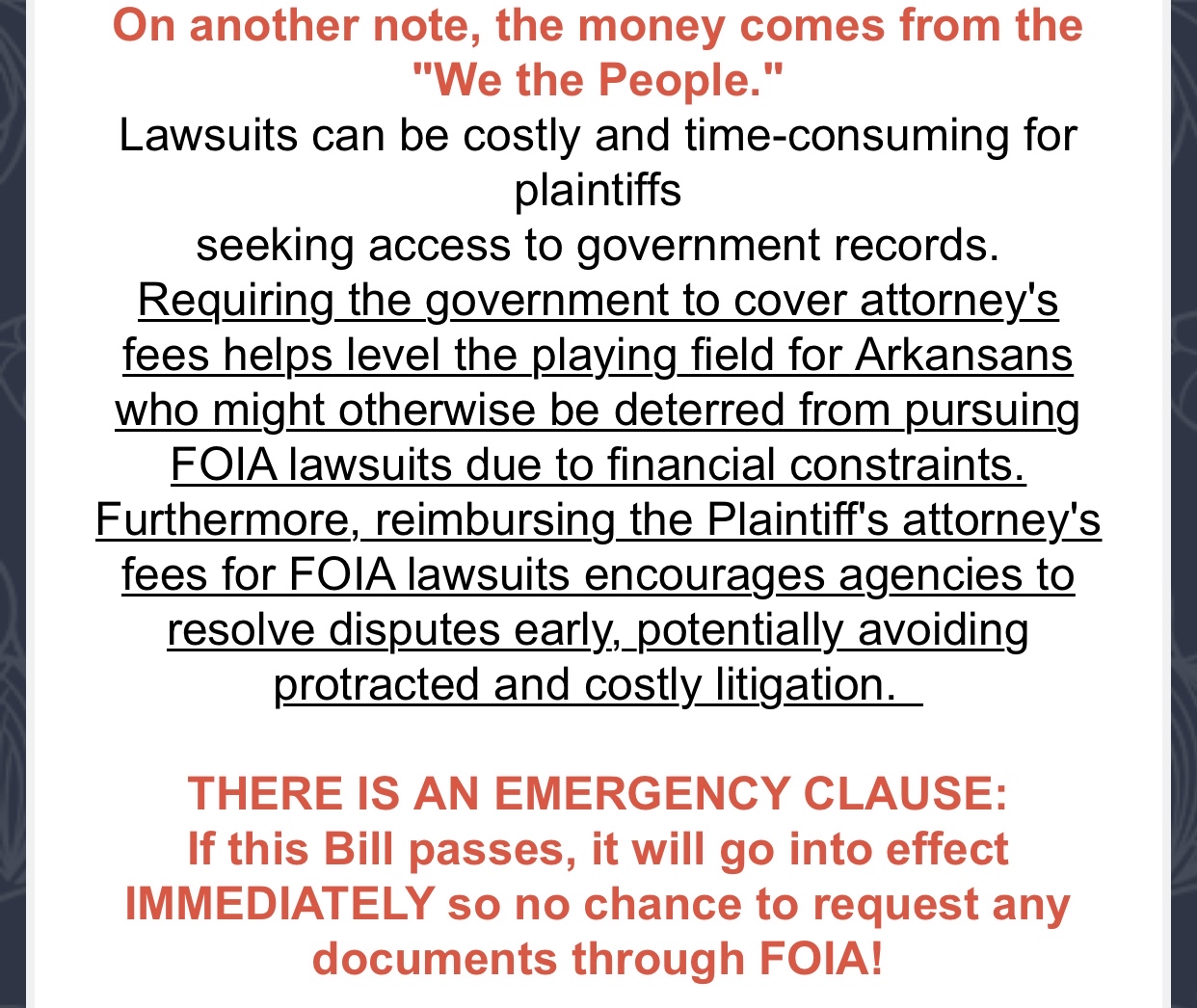 .
These FOIA bills are weaponizing the government against the people!
If this no-good FOIA bill plows on through, then we will know, without a doubt, that our Arkansas State government has been captured to assist in this New World Order agenda.
We will be dealing with an unreliable and untrustworthy government that is aiding and abetting the global elite in setting up this unstable economy we are living in these days… shoving the Great Reset forward by your legislative actions in our state.
But as Attorney Joey McCutchen states:
"FOIA never was a Democrat or Republican issue,
a Conservative or Liberal issue.
FOIA is a freedom issue!" 
Here's another interview with Joey McCutchen
with Conduit News.
So, are the Legislators for the People… or for the Governor?
Sadly, our Arkansas Attorney General and Governor, who are NOT true conservatives, have threatened Arkansans' right-to-know by allowing this dreadful bill to be introduced during this special session. Attorney General Tim Griffin's bill is taking a swing at the taxpayers, knowing that we need access to government — NOT another lockdown — and the records need to be made available to any individual who can demonstrate a right or need to know their contents.
Both Griffin and Sanders are eliminating anything or anybody that could deter their actions needed to move forward with their evil agenda at a fast pace by adding an 'emergency clause' to the nasty bill.
We can see and have learned from history that an Authoritarian government will take over and walk all over us, if we let that happen.
We, the people, MUST NOT be censored or suppressed of the right to know what goes on within our government. Hard-working Arkansans want to be able to trust, especially to SEE and HEAR, that our elected officials are working on behalf of the public, not plotting behind their backs!
Don't let it be like this cartoon shows: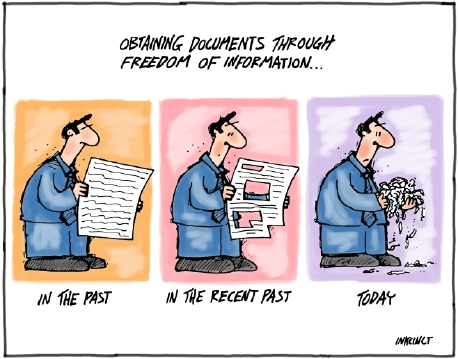 So, lawmakers, if you have decided to do the wrong thing, hardened your heart, and vote yes to rip out parts of our well endowed FOIA law, what's your motive to do so? Once you embark upon this nefarious quest, there is no going back because this is recorded in our Arkansas history. This will forever be your legacy that you have left Arkansans to cope with, including you and your own family.
Here are some unintended consequences that could happen to lawmakers who corrupt our open government:
Your reputation as a legislator will be ruined, so do the right thing… please, whether Democrat, Republican, or Independent.
Party discipline should occur if our supposed conservative legislators cross this line and vote for our open government to be trashed!
In closing, will the elected men and women that have been granted the power to serve in our General Assembly vote to get things back in control? Nothing paralyzes our lives like the attitude that things can never change.
Things can change in the legislature if godly perseverance is used, but this will take courage, integrity, and conviction. For our heroic lawmakers that are standing up for the right thing, we encourage you not to give up. Rest assured we, the people are praying for YOU and are behind you all the way!
Yes, life is full of things that make us weary. That was true when this verse below was written 2,000 years ago, and it's true today. Scripture says in Galatians 6:9 —
"Let us not become weary in doing good, for at the proper time we will reap a harvest if we do not give up."
KJV says: "And let us not be weary in well doing: for in due season we shall reap, if we faint not."
Readers, one more thing, please: We are asking for your presence at the Capitol TOMORROW! If you ever needed to come to the Capitol, it's now! The bill may be heard at 1:00 pm in the House in room 151 and at 3:00 pm in the Senate in the Old Supreme Court room; or upon adjournment from the House.
HURRY! This is an "Urgent Action Item": It's imperative to contact the House committee members first where HB1003 will be heard at 1:00 pm and then reach out to the Senate committee members next where SB7 will be heard at 3:00 pm and ask them to vote NO on those bills to preserve our FOIA… and then also contact our state legislators today and encourage them to vote NO on those bills because the special session starts Monday, September 11, 2023!
Please email, text, and/or call them immediately!
Make sure these insidious bills are stopped in committee so they don't even GET a chance to be on the House or Senate floor!
(1) Please contact the members of Arkansas HOUSE State Agencies & Govt'l Affairs Committee ASAP, and let them know you want them to VOTE NO on HB1003 in the interest of transparency in government and to keep our FOIA as is:
Rep. Dwight Tosh, Chair dwight.tosh@arkansashouse.org  870-926-0423
Rep. Mark D. McElroy, Vice Chair mdmcelroy1@yahoo.com   870-222-8217
Rep. Rick Beck  rick.beck@arkansashouse.org  501-912-1441
Rep. Mary Bentley  mary.bentley@arkansashouse.org   501-889-3556
Rep. Mark H. Berry  mark.berry@arkansashouse.org   479-462-2863
Rep. John P. Carr  john.carr@arkansashouse.org   479-619-5104
Rep. Nicole Clowney  nicole.clowney@arkansashouse.org   479-445-5337
Rep. Cindy Crawford   cindy.crawford@arkansashouse.org   479-782-4693
Rep. Jimmy Gazaway   jimmy.gazaway@arkansashouse.org   870-215-1243
Rep. Justin Gonzales   justinrory@yahoo.com  870-245-6365
Rep. Lane Jean  l_jean@sbcglobal.net  870-904-1856
Rep. Stephen Meeks  Stephen.Meeks@arkansashouse.org  501-314-9250
Rep. Josh Miller  josh.miller@arkansashouse.org  501-365-3599
Rep. Jon Milligan  jonmilligan@ymail.com  870-219-1261
Rep. Jeremiah Moore  jeremiah.moore@arkansashouse.org   870-674-4373
Rep. Marcus E. Richmond  richmond4staterep@gmail.com  479-299-4416
Rep. Jamie Scott  jamie.scott@arkansashouse.org  501-398-2961
Rep. Kendon Underwood  kendon.underwood@arkansashouse.org 479-644-8461
Rep. Jeff Wardlaw  jeff@jeffwardlaw.com   870-226-9501
Rep. Richard Womack  richard@richardwomack.com   870-403-6287
You can copy/paste this list of emails below to email all of the committee members at one time, if you like:
mary.bentley@arkansashouse.org
nicole.clowney@arkansashouse.org
cindy.crawford@arkansashouse.org
jimmy.gazaway@arkansashouse.org
Stephen.Meeks@arkansashouse.org
jeremiah.moore@arkansashouse.org
kendon.underwood@arkansashouse.org
——————————
(2) Also, please contact the members of Arkansas SENATE State Agencies & Govt'l Affairs Committee ASAP, and let them know you want them to VOTE NO on SB7 in the interest of transparency in government and to keep our FOIA as is:
You can copy/paste this list of emails below to email all of the Senate committee members at one time, if you like:
Stephanie.Flowers@senate.ar.gov
———————–
(3) Either one or both of these bills could go to the full House or full Senate if they pass through committee, so please ask all of the legislators to vote "no" on the FOIA bills HB1003 and SB7. Also, ask them how they are planning to vote.
Shown below is the list of co-sponsors on the bills, and you can also see the main sponsors of the bills are Senator Scott Flippo from Bull Shoals and Rep. David Ray from Maumelle.
CoSponsors:
M. Shepherd,  Achor,  Andrews, Barker,  Beaty Jr.,  Beck,  Bentley,  M. Berry,  Breaux,  Brooks,  K. Brown, Burkes,  Eubanks,  Evans,  C. Fite,  Fortner,  Gazaway,  Gramlich,  Haak,  D. Hodges,  G. Hodges,  Holcomb,  Hollowell,  L. Johnson,  Lundstrum,  Maddox,  McCollum,  B. McKenzie,  Painter, Pilkington,  R. Scott Richardson,  Richmond,  Rose,  Rye,  Tosh,  Underwood, Unger,  Wardlaw,  Watson,  J. Boyd, Crowell,  B. Davis,  Dees,  J. Dismang, J. English,  Gilmore,  K. Hammer,  Hester,  Hill,  Irvin,  B. Johnson,  M. McKee, J. Petty,  Rice,  Stone,  D. Wallace
Please call those legislators that have sponsored the bill and ask them to pull their sponsorship and keep our beloved FOIA law in place, as it is!
Here is a PDF of ALL Arkansas legislators with their names, email addresses, phone numbers, districts, and party affiliation.
We've also included ONLY their email addresses below, should you like to email them all at one time. (See if you can save these in your email sender so you won't need to copy/paste all of them every time. Or save them on your computer so you'll have them when you need them.)
brandon.anchor@arkansashouse.org
wade.andrews@arkansashouse.org
howard.beaty@arkansashouse.org
mary.bentley@arkansashouse.org
harlan.breaux@arkansashouse.org
keith.brooks@arkansashouse.org
karilyn.brown@arkansashouse.org
rebecca.burkes@arkansashouse.org
frances.cavenaugh@arkansashouse.org
nicole.clowney@arkansashouse.org
andrew.collins@arkansashouse.org
cameron.cooper@arkansashouse.org
bruce.cozart@arkansashouse.org
cindy.crawford@arkansashouse.org
matt.duffield@arkansashouse.org
denise.ennett@arkansashouse.org
sonia.barker@arkansashouse.org
deborah.ferguson@arkansashouse.org
kenneth.ferguson@arkansashouse.org
charlene.fite@arkansashouse.org
stephanie.flowers@senate.ar.gov
vivian.flowers@arkansashouse.org
jack.fortner@arkansashouse.org
denise.garner@arkansashouse.org
jimmy.gazaway@arkansashouse.org
zack.gramlich@arkansashouse.org
deanna.hodges@arkansashouse.org
grant.hodges@arkansashouse.org
mike.holcomb@arkansashouse.org
steve.hollowell@arkansashouse.org
ashley.hudson@arkansashouse.org
robin.lundstrum@arkansashouse.org
stephen.magie@arkansashouse.org
julie.mayberry@arkansashouse.org
mindy.mcalindon@arkansashouse.org
rick.mcclure@arkansashouse.org
austin.mccollum@arkansashouse.org
tippi.mccullough@arkansashouse.org
brit.mckenzie@arkansashouse.org
stephen.meeks@arkansashouse.org
jeremiah.moore@arkansashouse.org
kendra.moore@arkansashouse.org
milton.nicks@arkansashouse.org
stetson.painter@arkansashouse.org
aaron.pilkington@arkansashouse.org
chad.puryear@arkansashouse.org
jay.richardson@arkansashouse.org
scott.richardson@arkansashouse.org
marcus.richmond@arkansashouse.org
tara.shephard@arkansashouse.org
matthew.shepherd@arkansashouse.org
joy.springer@arkansashouse.org
trey.steimel@arkansashouse.org
gary.stubblefield@senate.ar.gov
kendon.underwood@arkansashouse.org
deann.vaught@arkansashouse.org
steven.walker@arkansashouse.org
danny.watson@arkansashouse.org
david.whitaker@arkansashouse.org
jeremy.wooldridge@arkansashouse.org
.
As always, our articles may be viewed on our website at  SecureArkansas.com. Once there, you may:
view current articles on the main page;
view older articles by clicking "Posts & Articles" at the top left of the main page and scrolling down.
view additional past articles by clicking the "Next Page" button at the bottom right.
To find information about a topic, just type it into the Search box on our website, and click Enter!
Click here if you'd like to sign up to receive Secure Arkansas email alerts.
Securing the blessings of liberty,
Secure Arkansas
securetherepublic.com/arkansas
info@securetherepublic.com
image credit for cover image
Share This Article