For Immediate Release: AR State Sen. Bryan King on Bitcoin Mines: A National Security Threat!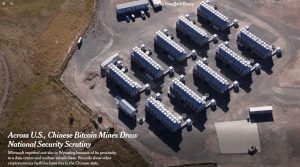 Bitcoin Mines:  a National Security Threat!
Read this excellent article from the New York Times:
Across U.S., Chinese Bitcoin Mines Draw National Security Scrutiny
Microsoft reported one site in Wyoming because of its proximity to a data center and nuclear missile base. Records show other cryptocurrency facilities have ties to the Chinese state.
Warning! These Bitcoin mines will affect ALL of us. We are facing a national security threat from the communist Chinese nationals!
In the article, two well-informed reporters — Gabriel J.X. Dance and Michael Forsythe — have made it easy for us understand the dangers of Bitcoin mines and the ties to Communist China. We truly appreciate these men for their insight and investigative skills.
Must Read Now! You really need to read the full article for yourselves. In order to do so, you'll need to agree to the Terms and then enter your email address and choose a password. You don't have to subscribe — you can read the article for free. However, it's only $1 per week if you do subscribe.
We need to be informed, especially of the dangers of these Bitcoin mines, so we can be better prepared.
.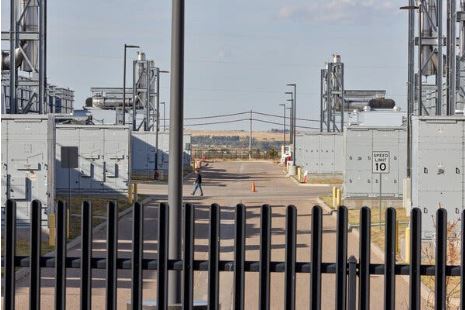 The Chinese-tied Bitcoin mine in Cheyenne, Wyo., is next door to a Microsoft data center, above, that supports the Pentagon.  Credit…Stephen Speranza for The New York Times
.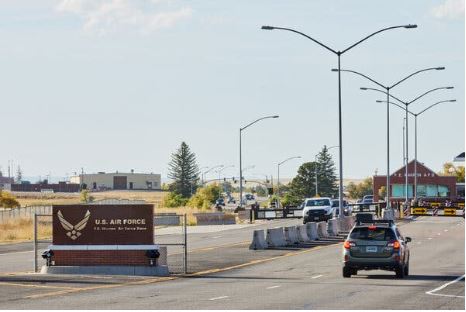 The high-powered computer site is about a mile away from F.E. Warren Air Force Base, which controls nuclear missiles.  Credit…Stephen Speranza for The New York Times
.
Some snippets from the NY Times article:
When a company with Chinese origins broke ground last year on a crypto-mining operation in Cheyenne, Wyo., a team at Microsoft that assesses national security threats sounded the alarm.

The national security concerns about the Wyoming site, previously unreported, reflect a broader unease about a recent surge in Chinese Bitcoin mines across the country.

Aside from intelligence-gathering worries, the mines, which are large warehouses or containers packed with specialized computers, put immense pressure on power grids. The computers typically run around the clock while "mining" for the digital coins, the most popular among the various cryptocurrencies.

In at least 12 states, including Arkansas, Ohio, Oklahoma, Tennessee, Texas and Wyoming, The Times identified Chinese-owned or -operated Bitcoin mines that together use as much energy as 1.5 million homes. At full capacity, the Cheyenne, Wyo., mine alone would require enough electricity to power 55,000 houses.

Many of the mines are equipped with computers made by Bitmain, a Chinese company that has no apparent direct connection to the Chinese authorities but, according to import records, has sent some shipments to the United States through a subsidiary located at a Communist Party site in southern China.

In many parts of the country, the frustration is palpable.

"We're all worked up over TikTok, but nobody seems to be saying anything about these Chinese companies connecting to our grids," said Bryan King, a Republican state senator in Arkansas whose district includes the city of Harrison, where a Chinese investment group has purchased land for a Bitcoin mine. "It just doesn't make sense."
These Chinese Bitcoin mining companies hooking up to our electrical substations should be seen as a national security risk!
And look how closely the Bitcoin mine in Cheyenne, Wyoming, positioned itself to the Microsoft data center and the Air Force Base! See the picture below, taken from helicopter footage in the NY Times article: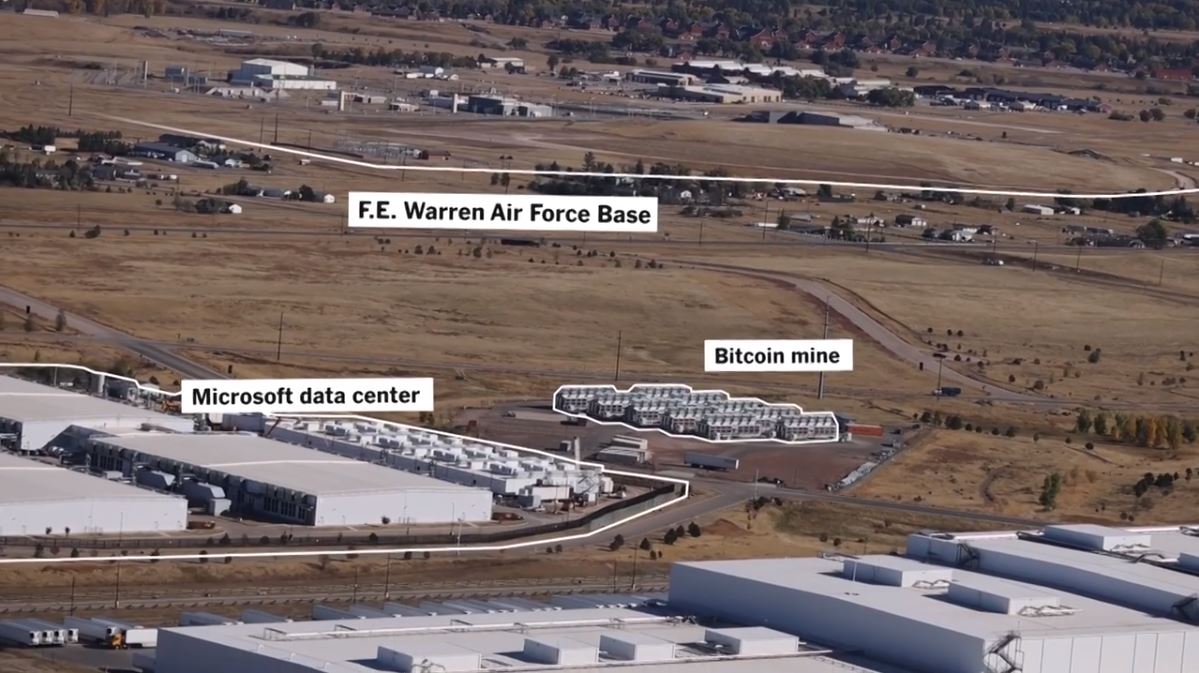 The article goes on to explain that the owners of these crypto mines are usually shell companies which themselves are owned by other shell companies. What a mess!
However, one local legislator has been questioning these crypto mining facilities ever since legislation was introduced at the Arkansas Capitol earlier this year: Arkansas State Senator Bryan King is very concerned and believes we are continuing to be misled about the crypto mines… and Secure Arkansas agrees! Read the important press release that he wrote today (10/13/2023):
Arkansas State Senator Bryan King's Press Release:
Today, the New York Times published an article, "Across U.S., Chinese Bitcoin Mines Draw National Security Scrutiny," stressing the dangers of crypto mining facilities and the possible threats to our national security.

I will be increasing my efforts to protect the citizens of Arkansas.  Since the passage of Act 851, we continue to learn more about the concerns that should have been discussed and disclosed. Originally, Act 851 was House Bill 1799 that was filed late in the session, wrongfully expedited, and drew little attention.  The title of the bill itself was deceptive and we were told this bill had no reason to have concern.  The bill seemingly tried to clarify the regulations of the digital asset mining business, however, it is just a guise for crypto mines to build in Arkansas and seemingly promote economic growth.

Crypto mining facilities draw immense energy and strain our electrical grids. Bitcoin mining was banned in China in May 2021 over concerns about energy usage and financial regulations.

There is little regulatory attention to crypto mining facilities and the possibility they pose sincere threats and could allow intrusions into our critical systems.

Digital currency and crypto mining is relatively new, people know little about it.  The New York Times article sheds more light on how these buildings and locations threaten our national security and the citizens of the United States.  According to the New York Times article, "The site (in Greenbrier, AR) consists of more than 20 Antboxes, which are specialized shipping containers made by Bitmain to house hundreds of its computers.  It consumes more power than the nearby town."

The people of Arkansas continue to be misled.  My efforts will include FOIA requests and an expansion of inquiries into this issue. The special interests that are making millions in crypto currency have exploited our legislative process.  They must be held accountable.

#     #     #
Attention Legislators: In this revealing video, Arkansas Senator Bryan King is questioning Hugh McDonald, Arkansas Secretary of the Department of Commerce, and McDonald says, "Crypto miners and data centers are very different". The sponsors misled people with words in the bill HB1799, comparing them to data centers.
Remember this article from Talk Business dated January 13, 2022:
Senator Cotton warns Arkansas Officials to guard against Chinese influence at Local Level 
Some excerpts:
Senator Tom Cotton, R-Ark., sent a letter Wednesday (Jan. 12) to Arkansas' statewide elected officials, legislators, and county judges warning them that the Chinese Communist Party may try to influence his work through them.

"It has come to my attention that the Chinese Communist Party may attempt to use state and local officials in Arkansas to influence my work in the Senate. I want to alert you to this risk…" the letter states.

Cotton, who sits on the Senate's Select Committee on Intelligence, said the efforts of China to influence U.S. policy at a variety of levels is "pervasive." He said the FBI opens a new China-related counterintelligence case every 10 hours and that there are 2,000 open investigations into Chinese intelligence operations in U.S.
Click here for a copy of Senator Cotton's letter to Arkansas State and local officials dated January 12, 2022.
REMINDER: Senator Bryan King's Repeal of HB1799 needs to be brought up in an emergency legislative session! 
Secure Arkansas sincerely thanks and applauds Senator King's effort to watch out for us and bring our state back to the peaceful place where we all want to reside once again.
.
As always, our articles may be viewed on our website at  SecureArkansas.com. Once there, you may:
view current articles on the main page;
view older articles by clicking "Posts & Articles" at the top left of the main page and scrolling down.
view additional past articles by clicking the "Next Page" button at the bottom right.
To find information about a topic, just type it into the Search box on our website, and click Enter!
Click here if you'd like to sign up to receive Secure Arkansas email alerts.
Securing the blessings of liberty,
Secure Arkansas
securetherepublic.com/arkansas
info@securetherepublic.com
Share This Article